I require my students to complete sketchbook assignments. My first semester teaching, I struggled to figure out what would work best for their skill level and for our budget. It was lame at the beginning, I told them all to buy a sketchbook and we didn't even end up using it much. My bad! I feel like the system I have now is muuch better.
My 7th and 8th graders use a simple sketchbook we tied together with construction paper and regular computer paper. Whenever the time is right, usually towards the end of a project when there are kids done and some still working, I assign a sketchbook assignment. This helps keeps fast finishers stay occupied in class. Typically I give them on Mondays and then they are due on Friday. Usually I ask a question they must answer through their drawing.
Some of my favorites are:
What if a 6ft squirrel showed up in your backyard?
What if you suddenly became very very small?
What if your big toe became it's own person?
What will you look like in 10 years?
What if people only ate ice cream?
7th grade boys always seem to come up with the most hilarious responses.
However for my Foundations 2 class, which is my more advanced group of students, we do something a little different. I purchased them all a visual journal that has a heavier paper for wet media and a set of drawing pencils. Most of my classroom art supplies come from
blick supplies
. I like it because it's pretty easy to find stuff, my orders come fairly quickly, and I can buy classroom sets of things. The prices are not always the lowest, but it's convenient for me.
This is the sketchbook I got them. It has hard backing and good paper! They love them.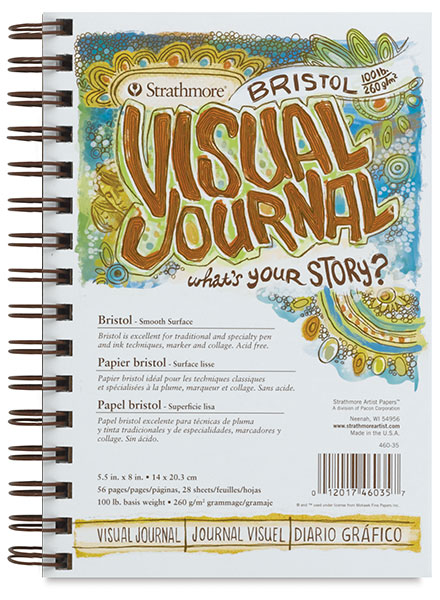 For this class, we use the sketchbook to learn different techniques and processes. These sketchbooks are small, 5"x8", which means they don't have to spend TONS of time completing a simple technique. I do a quick workshop to show them a technique and then leave it to them to do it and take it beyond the technique. So this is what we're doing in them:
-make a page using a stencil
-wax resist methods
-tape transfers
-gesso transfers
-drip methods
-melty things
-using a brayer to roll on ink etc
-use a non-typical media
We'll do more than this, I don't want too many because we have big projects to complete as well. This allows them to get a lot of media exposure without the intimidation of a big project. They love it. And because I gave them nice pencils and sketchbooks, they are so grateful and really take time to do good stuff. It's like that movie Freedom writers where the kids knew they were given the crappy books so they didn't feel it was worth it to learn? I really believe in giving students good materials, when possible. Budgets do not always allow I know this. But seriously can you create a good painting with a dinky crayola paintbrush meant for a two year old? It is difficult. Anyways, back to sketchbook assignments. I love looking at artists' sketchbooks and showing examples to my students. They eat it up.
What are your favorite sketchbook assignments? How do you motivate your students to use them often and use them well?